ADE HOT SAUCE COMPETITION '22
read:
< 1
minutes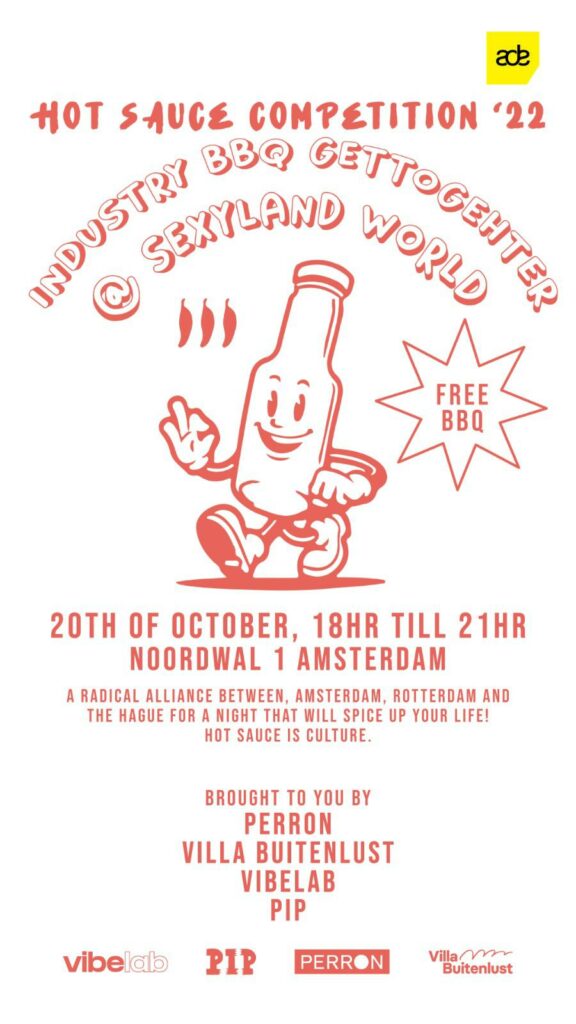 Keeping it spicy this nighttime industry mixer is also a BBQ and a hot sauce competition at SEXYLAND.

Kicking off ADE on Thursday 20th of October,  PERRON, Villa Buitenlust, PIP and VibeLab, are bringing the heat with a radical alliance between Amsterdam, Rotterdam and The Hague's clubbing and cultural scenes,

Nearly every nation has its own cultural rendition of a spicy condiment to enhance the flavour of its food and we want to celebrate this!

Bring along your local hot sauce blend in a jar. It can be homemade, or it can be your favourite local hot sauce from where you live. Enter it into either strand of the competition and enjoy a free BBQ and the chance to meet and share ideas with fellow international dance music lovers 

The competition will be judged by:
Molly: Creator of one of the finest hot sauces we have ever tasted
Etienne Order: tattoo artist, DJ and brains behind the highly acclaimed ORDER Sichuan restaurant
A Mystery quest international DJ
The winner of the best hot sauce is awarded a two-night stay at the Villa Buitenlust with late check out for ADE 2023.
Timing:
17:30 The Burn Starts
19:00 The Official Hot Sauce Ceremony
21:00 End of BBQ
Location: Sexyland World, Noordwal 1, Amsterdam
BBQ donations will go towards the Villa Buitenlust's charity.
Villa Buitenlust is a tranquil retreat, where you can take a step back from life, in the middle of the tranquillity of Westerpark it welcomes people to take a deep breath and reflect. Encouraging cultural integration and focus on mental health support, Villa Buitenlust also hosts artists' residencies to bring people together. Donations from the BBQ will go towards supporting this project.
Contact info press: Mirik Milan mirik@vibe-lab.org