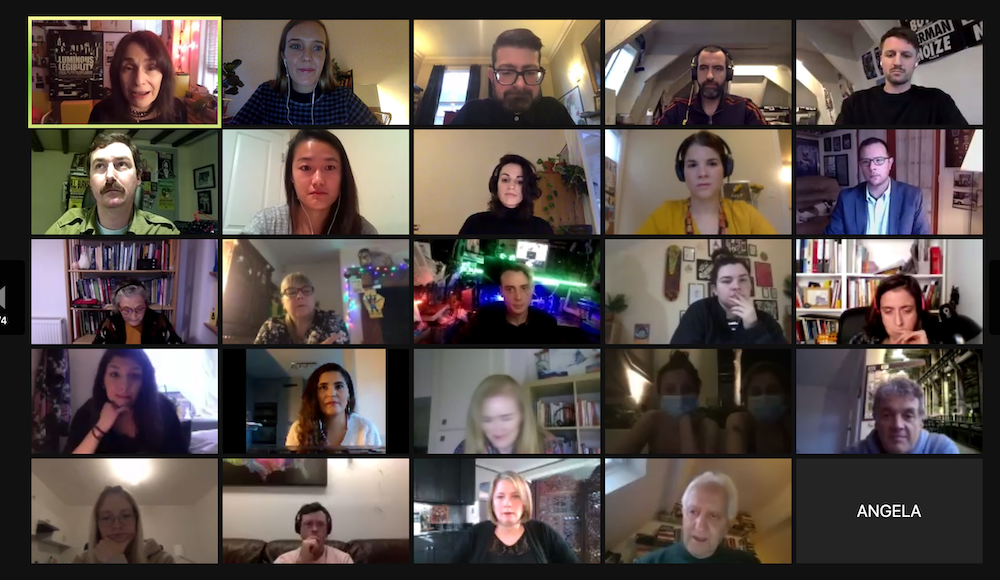 What is the Global Nighttime Recovery Plan (GNRP)?
The Global Nighttime Recovery Plan is a collaborative, practical guide for cities that are trying to determine the best way to design and execute a safe and feasible strategy to reopen and reactivate their creative and night-time economies.
The guide is a joint effort that involves more than 130 practitioners, academics, public health experts, advocates and industry representatives from more than 70 cities all over the world, and is meant to be an interactive platform to share frameworks, tools, and practices among cities during these unprecedented times.
For this reason, the guide is meant to be both an accurate but flexible document that can be updated as the circumstances change.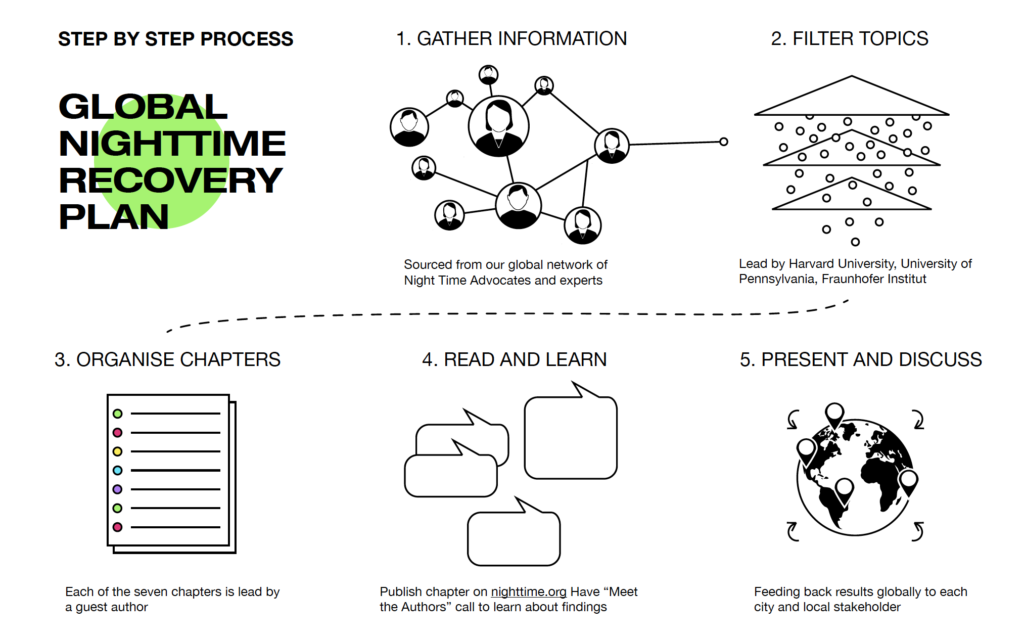 Through a knowledge-sharing platform, community-building online conferences, and published resources, we provide a roadmap for cities re-opening their nightlife during- and post-COVID, in order to ensure that this particularly vulnerable sector can bounce back stronger, more sustainable, and more resilient than before.
Our goal is to foster interdisciplinary collaborations on city-level and to promote multinational cooperation and know-how sharing.
Strong Network: We link nighttime stakeholders with experts in other fields to share ideas, transfer best practices from one city to another, build continuing supportive global network
Resource Development: We publish nighttime-recovery resources, including tools that go beyond "best practice" or case studies, and make it easy for other cities to put the same program into practice
CHAPTER 1: MANAGING OPEN AIR NIGHTLIFE
CHAPTER 2: THE FUTURE OF DANCE FLOORS
CHAPTER 3: INNOVATING FOR 24 HOURS
CHAPTER 4: SUSTAINING OUR NIGHTLIFE SCENES
Why is it the Global Nighttime Recovery Plan needed?
Cultural, community, and economic activity at night is essential to a city's vibrancy and productivity and supports numerous local and international industries. But the COVID-19 pandemic has thrown nighttime economies and cultures into uncertainty across the globe.

In many cities, clubs, venues, and other gathering spaces will likely be the last to re-open, making nighttime cultural economies highly vulnerable. As we begin to shift from lockdown, we must re-envision how urban systems coexist with the ongoing threat of COVID-19—and those systems must extend into the night.
Upcoming Chapters: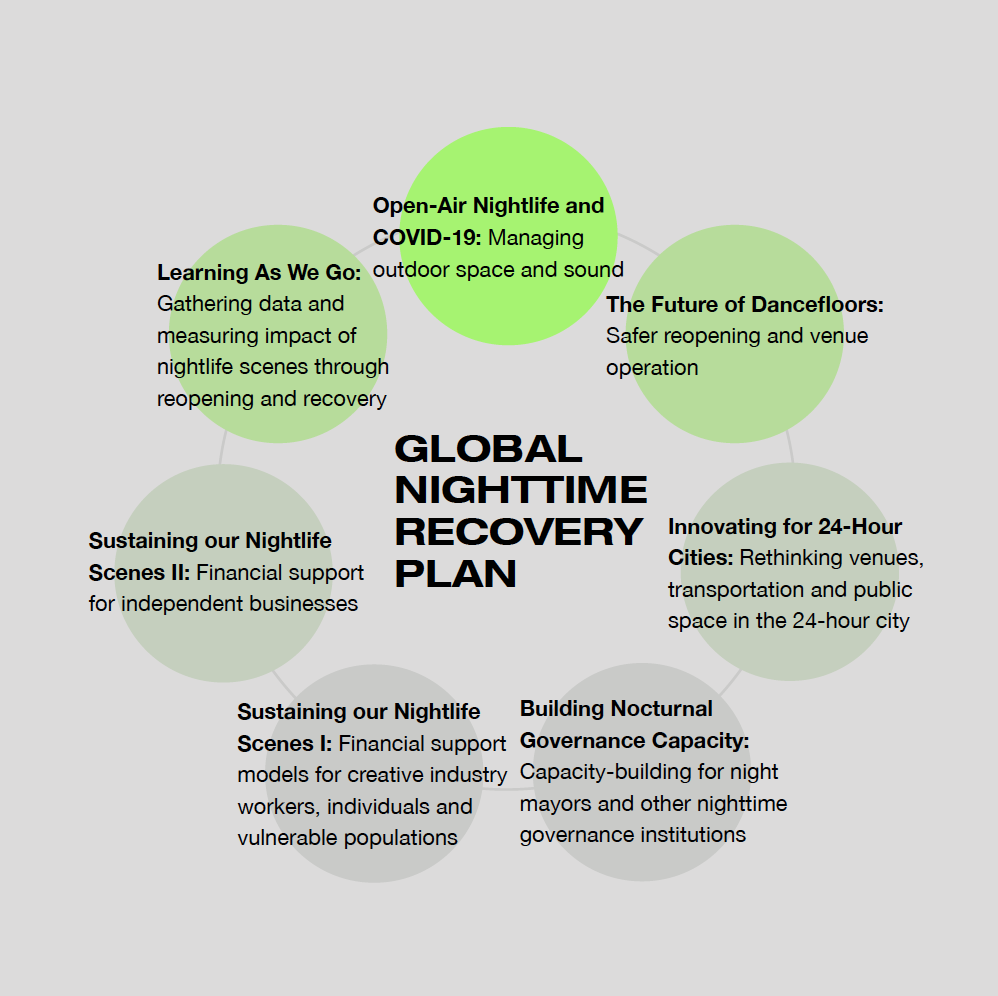 The plan has been structured into a set of themes that address specific issues that cities are facing globally.
Register your interest in the upcoming chapters of the Global Nighttime Recovery Plan here.
This guide is written to provide all members of the night-time ecosystem the knowledge and tools to aid their cities in planning for safe, intentional, and equitable re-opening. Each chapter includes guidance from re-opening to re-imagination:
RESOLVE: Analysis of cities' immediate actions to contain COVID-19 spread – where most stakeholders are today
RESILIENCE and RETURN: Tools and strategies to shape recovery
REIMAGINATION and REFORM: Scenario planning to define the next normal
Contributors:
Chapter 1:
Chapter 2:
Chapter 3:
Chapter 4:

Initiators:
Berlin Club Commissioner Lutz Leichsenring and Amsterdam's former Night Mayor Mirik Milan build up strong institutions to engage, connect, inform, and counsel cross-sector stakeholders to keep cities vibrant and flourishing after dark. VibeLab founded an international network of more than 70 cities that created night time advocate roles such as the Clubcommission in Berlin, the Night Mayor in Amsterdam, the Director of Nightlife in New York City and the Night Czar in London. To counter gentrification of creative space, and to do advocacy work, these community advocates need in-depth analysis and assessment tools as well as access to venture capital and donations. VibeLab's work also includes the Creative Footprint analysis of cultural vibrancy, thus far in Berlin, New York, and Tokyo and the first academic paper on Nighttime Governance in partnership with Harvard Graduate School of Design. Academic partners of the GNRP are Fraunhofer Institut IAO, Alexander von Humboldt Foundation and University of Pennsylvania.
What's next?
Stay tuned to receive chapter updates on the upcoming chapters, conference calls and collaborations.
Would you like to get involved as a contributor?
Contact us directly: Jess Dymond Barber jess@vibe-lab.org
Media coverage: