Chapter 7: Measuring and Analysing the Nighttime City
This chapter is about using data for decision making and political advocacy.
The seventh and final chapter of the Global Nighttime Recovery Plan is a go-to resource for anybody who wants to understand cities at night. It is a handbook of data methods and concepts for governments, communities, nightlife advocacy groups, and trade organisations – anybody looking to create safe, creative, and prosperous cities and scenes after dark. The chapter addresses evidence-based decision making in nighttime governance, and demonstrates how nighttime stakeholder organisations can utilise data for advocacy.
---
---
This chapter is authored by GNRP editor Michael Fichman, who is an urban planning lecturer at the University of Pennsylvania Weitzman School of Design and researcher at PennPraxis. Michael is also a nightlife community organiser and an industry veteran DJ, producer and event promoter based in Philadelphia.
The document walks through the key topics related to defining, gathering and utilising nighttime data, which are:
"Nighttime Governance – Evidence-Based Decision-Making": how governments and NGOs make decisions using data.
"What Are Nighttime Data?" : a dictionary of useful data sources related to topics including arts and culture, urban transport, economics, creative spaces, light and sound.
"Measuring The Night": methodologies and strategies for creating and analysing data about nighttime urban systems and communities.
"Recommendations" : strategies and practices for governments and for communities.
The document features case studies and analytical methodologies such as Berlin Clubcommission's, Clubkataster, BOP Consulting's Nanjing Night Time Economy Index, VibeLab's Creative Footprint Project and Voices of Creatives report, Sound Diplomacy's Huntsville Music Audit and more. The document discusses the need for a "Nighttime Data Protection Standard" to protect individuals in nighttime spaces. The chapter also references numerous case studies from the first six chapters of the GNRP.
The chapter features contributions and interviews from a global cast of advocates, practitioners, and scholars including: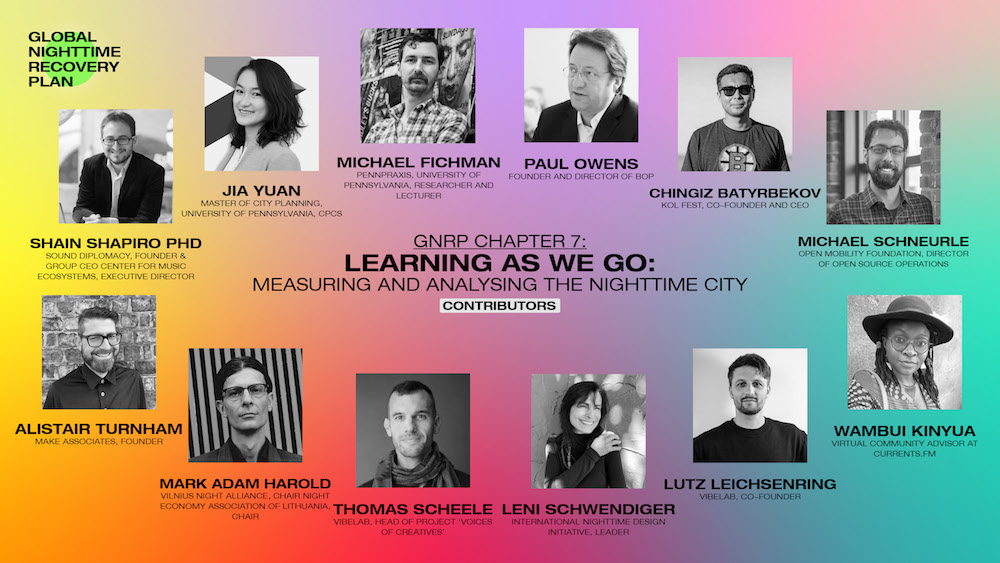 In the collaborative spirit of the GNRP, Chapter 7 is a truly open-source document – it comes with a GitHub repository of computer code to replicate some of the analyses referenced throughout the document. Sharing knowledge and skills is foundational to improving our nighttime world.
Use the final chapter of the GNRP as a reference point and resource for utilising data in advocacy.