Creative Footprint Study on Stockholm is released
read:
3
minutes
Who owns the night? Cross-sector collaborators unite to address this fundamental question in Stockholm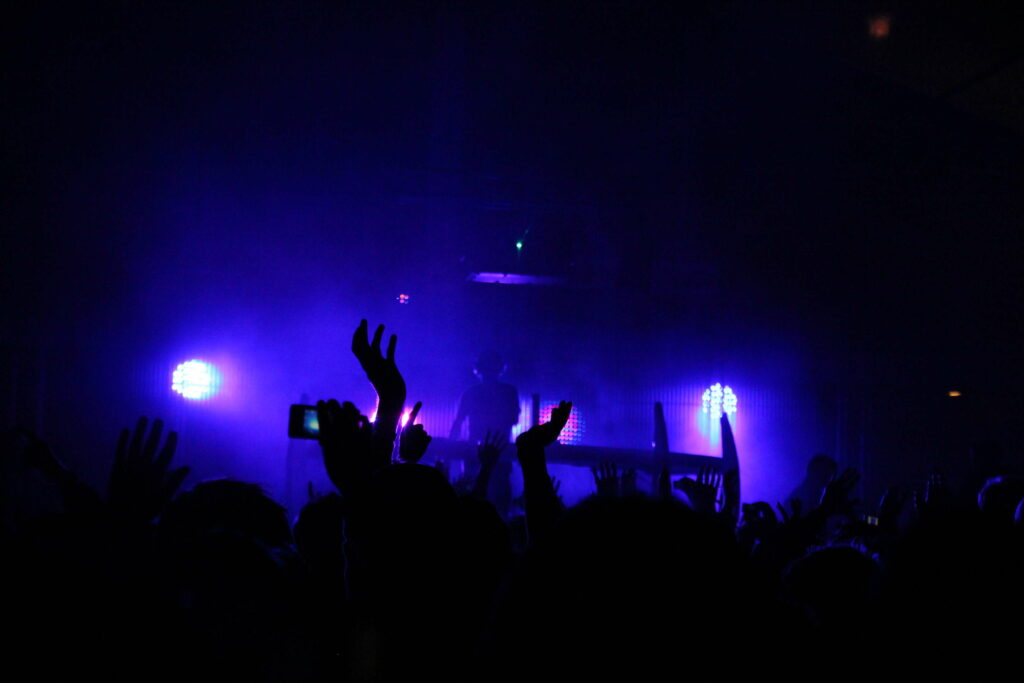 "It is of great value to build a strong foundation for entrepreneurs and business opportunities together with Stockholm nightlife, property owners and the City Administration." –

Mayor Anna König Jerlmyr talks about Creative Footprint in Stockholm
What is Creative Footprint Stockholm?
Creative Footprint (CFP) is a research project by nighttime consultancy agency VibeLab that researches creative spaces and communities to study the cultural value and impact of music and nightlife in the city. It has previously been conducted in Berlin (2017), New York (2018), and Tokyo (2019).
Creative Footprint Stockholm was conducted in 2021 on behalf of Stockholm's Stad (the City of Stockholm), Fastighetsägarna Stockholm, and Atrium Ljungberg to address the current state of the Swedish capital's nightlife. As Stockholms Stad prepares to implement its first nightlife strategy, this report aims to empower both the city's administration and the wider range of actors and stakeholders operating in Stockholm's music and nightlife scenes.
What the report contains
This report documents the findings of qualitative and quantitative research conducted in the summer and autumn of 2021. Creative Footprint's signature analysis methodology is based on over 5,000 data points relating to Stockholm's approximately 102 music and nightlife venues and the input of 50+ stakeholders gathered in 3 focus groups and 11 in-depth interviews.
Like other CFP reports, these results are calculated in an overall "city score," provided alongside further analysis of the economic and spatial patterns of Stockholm's creative spaces. In comparison to other CFP cities, Stockholm's overall score is similar to Tokyo's and lower than both New York and Berlin. And in all four cities, similar patterns have been observed: venue density correlates positively with factors such as density of transit, the density of young adults in a particular area, and rental costs, while areas with high rental costs tend to display lower levels of artistic experimentation.
Scores and analysis are divided into three focal areas of Space, Framework Conditions, and Community and Content. Stockholm's higher Space score is balanced by comparatively lower scores for Community and Content and Framework Conditions, suggesting both assets and challenges in the city. Research participants celebrated the city's energy and diversity, and the potential for a vibrant and sustainable nightlife scene. But clear barriers to a vibrant nightlife were also identified, including high operating costs, a restrictive licensing and permitting climate, systemic forms of social exclusion, and an imbalanced "venue ladder" that limits opportunities for early-career artists, promoters, and would-be venue operators.
This report also includes a set of recommendations focused on two areas: relationship and capacity building between nightlife stakeholders, and a pilot program approach for innovative nightlife spaces and policies in Stockholm. These recommendations are based upon both detailed analysis and good practice from the other nightlife cities profiled here. These strategic steps can both strengthen the city's nightlife and its broader agenda toward the UN Sustainable Development Goals (SDGs), in support of a future Stockholm model of economically, environmentally, and socially sustainable nightlife.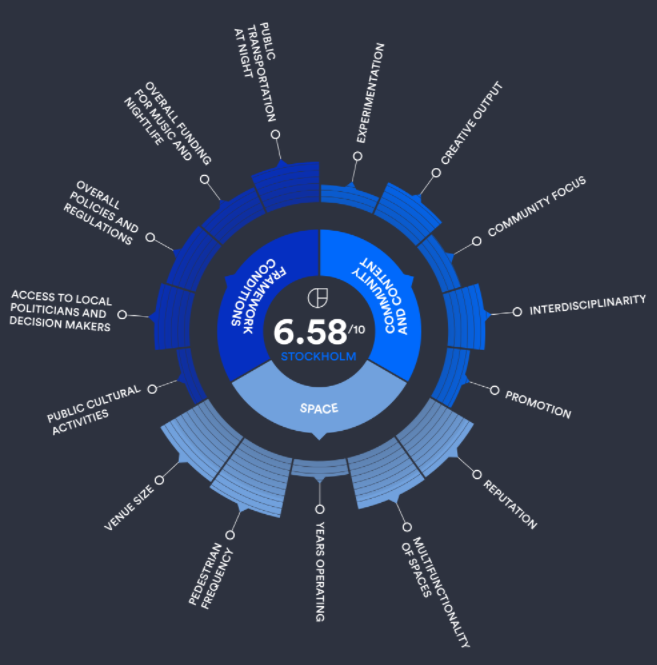 Who has the right to Stockholm's nightlife: High operating costs and stringent licensing and permitting for Stockholm's nightlife spaces are stifling creativity, its progression and development for existing and would-be nightlife operators.
It comes as no surprise that Stockholm's high cost of living burdens existing and would-be nightlife operators from running and starting new music and nightlife spaces and/or events. Prohibitive operating costs (including but not limited to rent, permits, and mandated staffing such as Ordningsvakter) are a cross-cutting theme: it impacts what spaces can exist in Stockholm, the types of content they program and the communities or audiences they reach out to.
High costs of operation have major implications:
It discourages young would-be venue operators from starting venues
It limits current venue operators' diversity of programming and audience
Event-goers of varied financial situations don't see the nightlife in the central parts of Stockholm as "for them"
At its extreme, only large chains or restaurant groups can afford to operate, leading to a continued "routinisation", homogenisation and gentrification of nightlife and culture.
In addition to the high operating costs, Stockholm Municipality's (and broader national-level) stringent and disparate licensing and permitting arrangements further complicate, and burden existing and would-be nightlife operators from running nightlife spaces, events and/or opening up new nightlife spaces in the city. The negative impacts of stringent licensing and permitting regulations were one of the greatest concerns raised by promoters, organisers, and others in the Creative Footprint study. The cumulative impact of restrictions—the required full kitchen for alcohol permits, stringent alcohol licensing, limited operating hours, Ordningsvakter [door security staff] and Danstillståndet [dancefloor permit]—were described as a significant cost and operations burden.
Taking a step back, it is important to underscore that these combined factors raise the fundamental question: who has the right to Stockholm's nightlife? Should Stockholm's nightlife scenes only privilege those who can and those who have the social and economic means to operate nightlife spaces in the city? Going forward, post-COVID-19, Stockholm has the opportunity to remedy the amplified social and economic barriers identified in Creative Footprint's study that currently prevent those who are unable to break through into the city's nightlife scenes—especially grassroots operators.