EMC launches an online event on managing the risks of dancing indoors
read:
3
minutes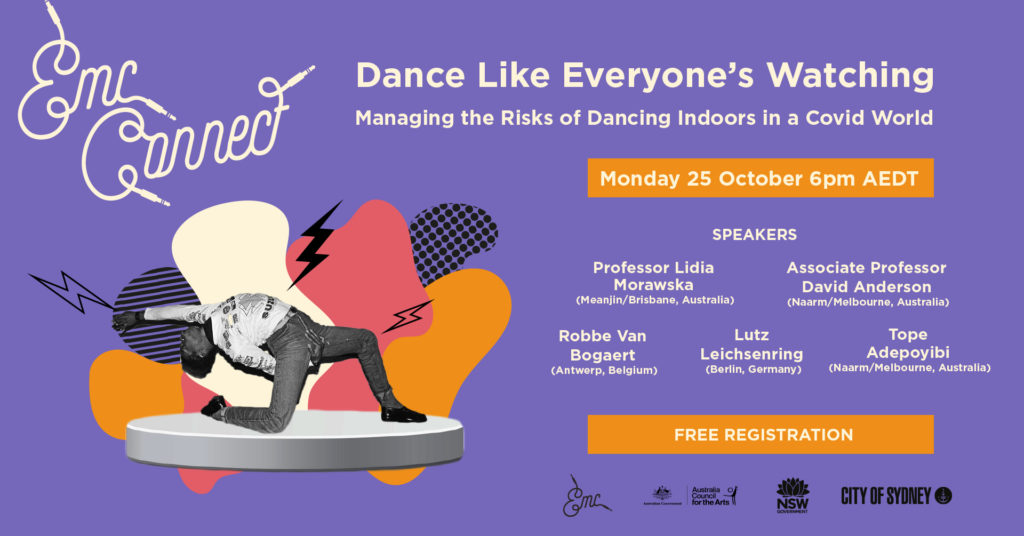 'DANCE LIKE EVERYONE'S WATCHING: MANAGING THE RISKS OF DANCING INDOORS IN A COVID WORLD'
Monday 25 October, 2021 6pm AEDT
Tickets Here
Dancing is risky business in a COVID world. The ability to dance again signifies genuine freedom and provides an economic lever as young people are enticed to head back out to enjoy a city's nighttime offer. With the release of 70%, 80% and beyond roadmaps, key cities impacted by the latest Delta strain are planning to emerge from months of COVID restrictions. What are the additional measures that clubs and venues may need to ensure patron and staff safety in the new world of 'living with COVID', and what are the outcomes of these additional measures that other countries have already adopted?
Electronic Music Conference presents a special edition of EMC Connect: 'Dance Like Everyone's Watching: Managing The Risks Of Dancing Indoors In A Covid World'. This virtual event will deep dive into comprehensive risk mitigation and additional health measures, featuring four distinguished experts in the field of science, technology and nightlife: Professor Lidia Morawska – Director, International Laboratory for Air Quality and Health (WHO CC for Air Quality and Health), Co-Director – Australia, Australia-China Centre for Air Quality Science and Management, QUT (Meanjin/Brisbane, Australia), Associate Professor David Anderson – Deputy Director (Partnerships), Burnet Institute; Chief Scientific Officer, Burnet Diagnostics Initiative (Naarm/Melbourne, Australia), Lutz Leichsenring – Co-Founder and Partner, VibeLab and Executive Board Member, Clubcommission (Berlin, Germany), Robbe Van Bogaert – Founder, Eventsure (Antwerp, Belgium), and facilitated by Tope Adepoyibi – Senior Public Health Practitioner (Naarm/Melbourne, Australia)
EMC Director Jane Slingo said:
"Businesses and workers in the electronic/dance music live industry have been and continue to be particularly restricted to trade. There is a keenness to understand the additional measures that can be implemented to support safe reopening and to give maximum protection to patrons and staff in indoor venues. We're thrilled to bring together some of the leading experts in air ventilation and rapid testing with figures from European countries where these measures have been implemented in policy and operational frameworks. This panel will focus on foreseeing what may be required ahead in the colder months in 2022, and how it can be possible to reopen and stay open with COVID-safe frameworks that are more favourable to business operations within indoor dancing environments."
Key topics the panel will address:
Air ventilation options, and considerations with regard to costs, supply, building and sound regulations
Measuring c02, costs and the impact in countries where this has been legislated
Rapid testing and the impacts this additional measure has had in countries that have reopened / are reopening
The live music industry is one of the most heavily impacted by the ongoing COVID-19 restrictions and within this industry, businesses and workers in electronic and dance music are particularly vulnerable. Venues, nightclubs and events – where dancing is a primary social activity- are the first to be restricted and the last to have restrictions eased.
This edition of EMC Connect is primarily for owners, operators and people working in nightclubs, events and venues where dancing indoors is essential for the ability to operate. Additional measures to mitigate health risks are critical to the protection of businesses and patrons that want – and need – to dance again. The virtual event is also the opportunity for the nightclubs/dancing venues industry to share and discuss the recently announced reopening roadmaps, and how this impacts not just NSW and VIC, but the ecosystem nationally. This is a live event only, the recording will not be shared for on-demand viewing.
Tickets – https://www.electronicmusicconference.com/emcconnect/ (attendance is free with registration)
Electronic Music Conference is supported by Australia Council for the Arts, NSW Government through Create NSW and City of Sydney.