For the first time, VibeLab gets nightlife on the agenda at the World Urban Forum
read:
4
minutes
Addressing nighttime safety through a gender-equitable lens.
Are we still scared of the dark in 2022?
Safety at night is a subjective issue that means something different to everyone. Whether it be getting home from the club, travelling to work, expressing your identity in a bar, being racially profiled, getting to a club, or taking a walk in your neighbourhood, feeling safe at night in the city is very different for everyone in every situation.
What is the World Urban Forum?
The World Urban Forum is a conference established by UN-Habitat, to examine pressing issues facing the world today, such as rapid urbanisation and its impact on communities, cities, economies, climate change and policies.
The topic of nighttime has been neglected at conferences that explore policy and urban planning. Yet it is now antiquated for governments and policymakers to not address life after dark. Since the pandemic, the world has woken up to the importance of nightlife and its capacity for providing safe(r) spaces to meet, share ideas, and build communities, identities, careers and livelihoods. In some way, the pandemic made people aware of the innate human need to socialise. Yet creating safer nights worldwide requires more attention, funding and support. 
The Night Walk, Katowice, Poland
In collaboration with UN-Habitat, Safetipin, the European Forum For Urban Security and its Women In Cities Initiative, the City of Katowice, and a host of others, VibeLab orchestrated a night walk of Katowice where an estimated 200 eager participants from around the world showed up at dusk. Using the My Safetipin app, with Katowice as a testing ground, this night walk crowd-sourced information on women and gender minorities' lived experience of the night, and used the city as a case study to learn about mobility and safety for the vulnerable – and thus the wellbeing of all.
This walk used a simple, powerful, multilingual technical tool to gather insights from Katowice residents and visitors alike, accompanied by an informal discussion between safety and nighttime practitioners and policymakers from around the world on the topics of mitigating unsafe nights, creating safer public spaces and improving mobility for all.
Good Nights: Rethinking Urban Safety, Wellbeing, and Community Through Culture After Dark
This event was the first session in WUF history focused on urban nighttime and was co-presented by VibeLab, the European Forum for Urban Security (Efus) and the Efus Women in Cities Initiative (WICI), the Global Parliament of Mayors, and UN-Habitat Safer Cities. 

The panel addressed what we can learn from the cultural driven aspect of nightlife and safety and brought it into a wider context of the World Urban Forum. The panellists contributing to the discussion explored the multiple definitions of safety. With virtual and IRL inputs ranging from people in public, private, cultural and civil society organisations. The discussion explored and highlighted how all these sectors can work together and how the expertise and lived to experience at night can offer alternative approaches to safer cities.

The discussion explored harm reduction, equality and inclusion, alternatives to policing, and the needs of women and gender minorities in urban space.
"The contribution of participative arts contributes to a safe city. Everyone wants to be useful and everyone wants to express themselves safely"

Barbara Holtmann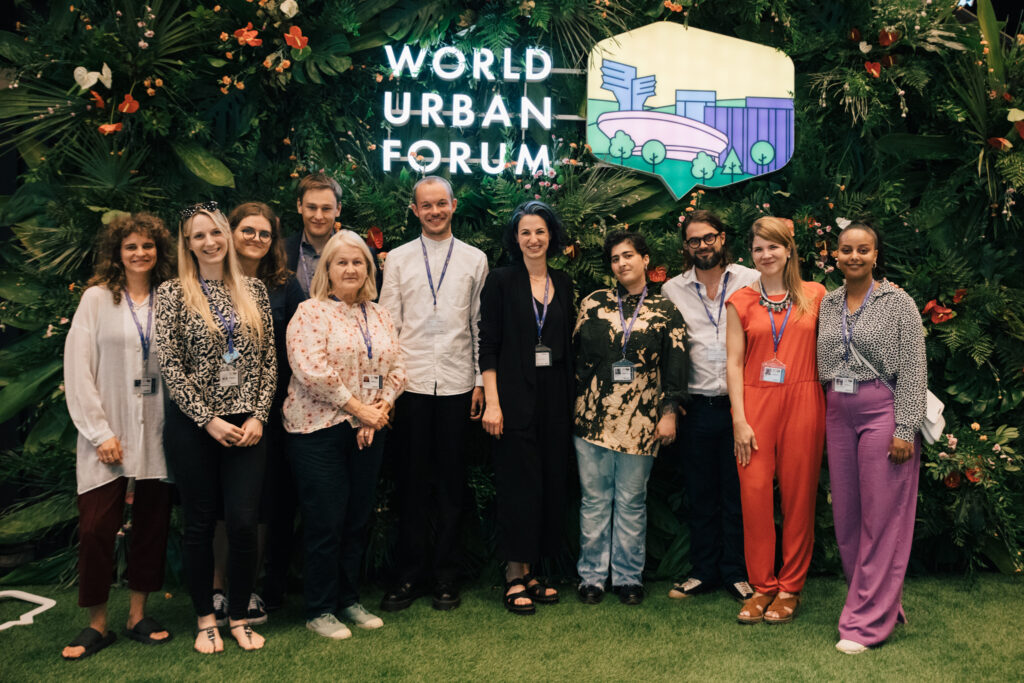 Key takeaways: 
Making the connection between gender minorities, safety and the urban night is absolutely essential if we want cities to be sustainable


Diverse and lively life at night creates better cities.


Night culture and the people that create it can provide new solutions and new ways of understanding and managing the city.

When looking at safety at night time do we measure what we want less of such as murder and violence, or do we measure what we want more of? Which is a cultural expression, activation, happiness or joy?


The day has a lot to learn a lot from the night


Cultural activation plays into the safety of spaces: Places that are well used feel safer than those that are empty


Later opening hours are conducive to safer nights. When there is a 24-hour alcohol license, people don't binge drink. It changes the behaviour around alcohol consumption, with a focus on experiencing the cultural offerings and slowly enjoying a drink.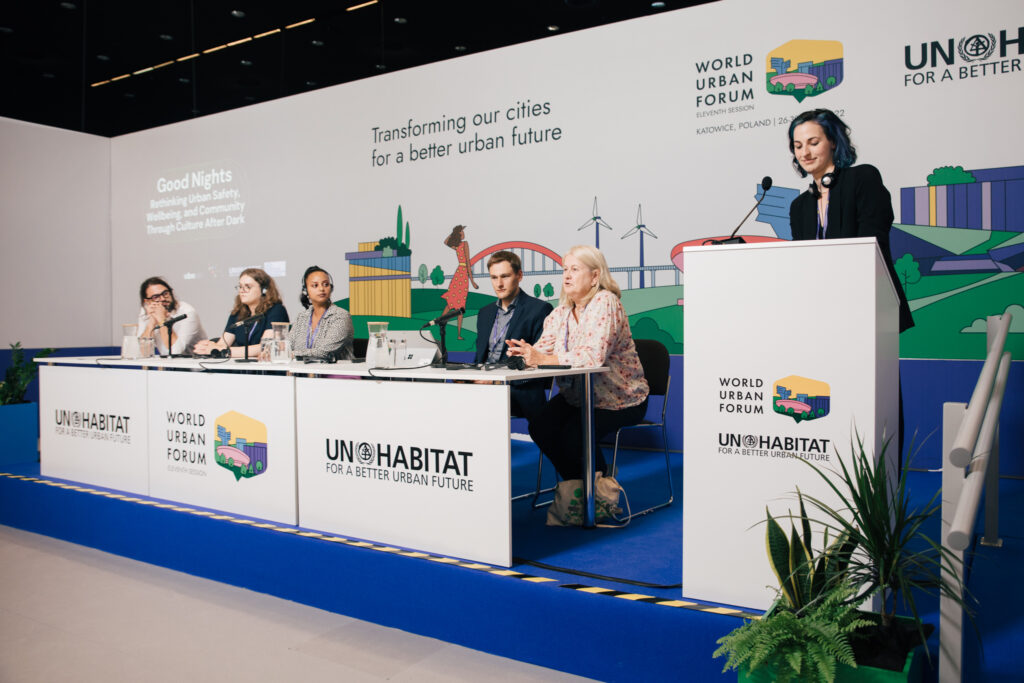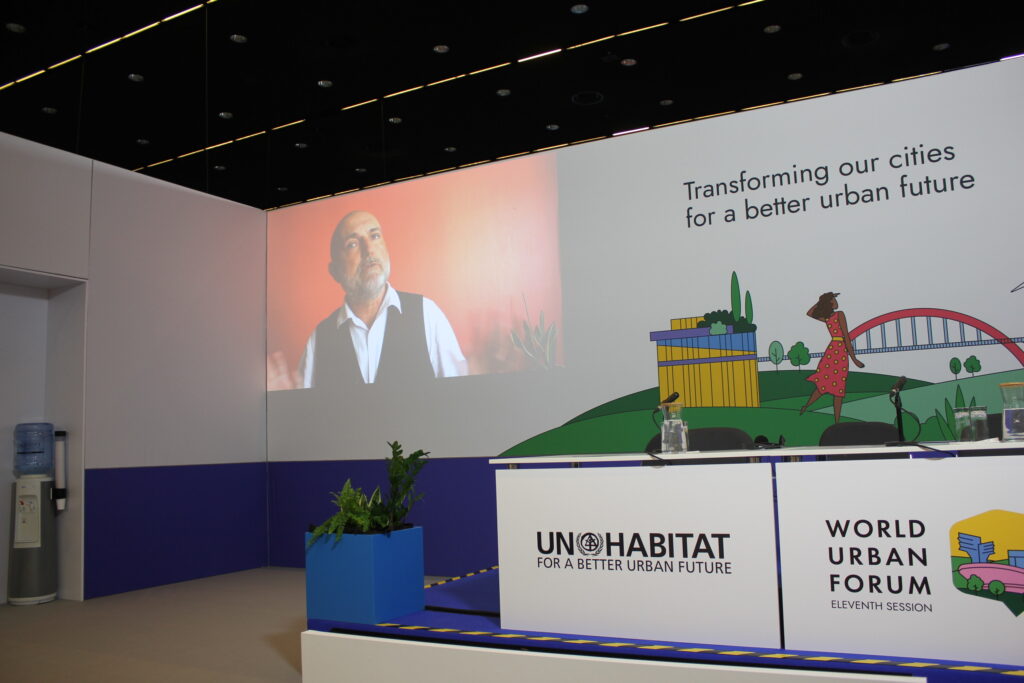 VibeLab and UN-Habitat Safer Cities' are launching a  SAFETYLAB, where there will be further engagement opportunities. The safety lab connects urban policymakers to nightlife practitioners to explore how culture-centred urban interventions promote safer nights, social inclusion and community wellbeing. If you are interested in finding out more about the SAFETYLAB, get in touch with diana@vibe-lab.org