read:
2
minutes
This Berlin-focused workshop investigates how to repurpose abandoned or disused transport spaces into innovative urban cultural areas.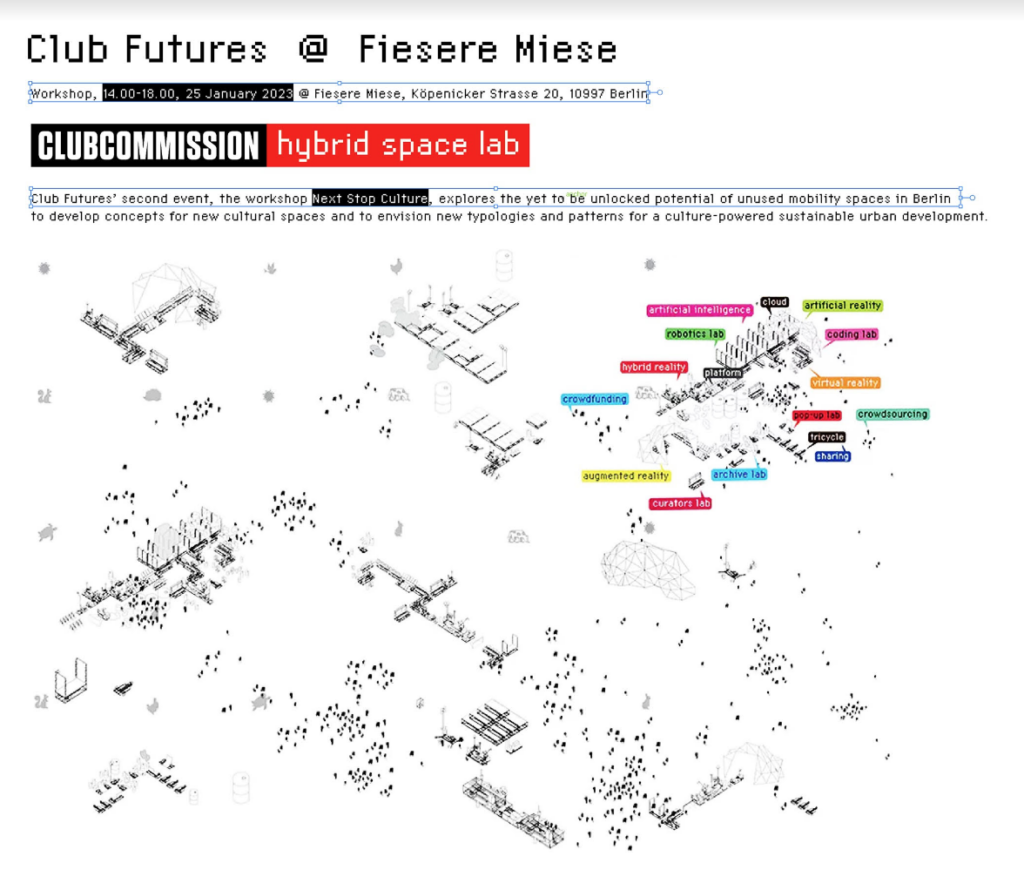 Next Stop Culture
14.00-18.00, 25 January 2023 @ transmediale & CTM Festival
@ Re:mise Köpenicker Strasse 18, 10997 Berlin
Next Stop > Culture is the second Club Futures international laboratory event co-organized by the Clubcommission Berlin and  Hybrid Space Lab to develop a fresh, future-focused perspective on the club and cultural scene.
The workshop will explore the yet-to-be-unlocked potential of unused transport spaces in Berlin to encourage new concepts for cultural areas and to envision new typologies and patterns for culture-powered sustainable urban development. Overlooked and forgotten places, currently, blind spots in the city atlas, are to be brought into public awareness in developing their multifunctionally, socially, and culturally. Whilst counteracting the disadvantages of functionally separated and fragmented urban structures.
At a time when inner-city cultural spaces undergo enormous pressure, it is essential also to foster culturally active and resilient places on the outskirts of the city. The workshop will consider well-connected locations inside and outside of the S-Bahn.
The project focuses on Berlin's environmentally friendly rail network with its radial and ring structure, which has been – and should remain – the basis for the city's development.
The workshop will outline ideas for cultural acupuncture as a catalyst for culture-based urban development. With the claim of a cultural (re)appropriation of public space, these catalysts aim to develop mobility infrastructures as lived community spaces and cultural places of encounter and exchange. The workshop creates visions for a new urbanity. To imagine space provision for the diverse urban society's cultural needs and concepts for innovative, environmentally friendly cultural projects.
Various qualitative typologies of mobility spaces will be accepted in the workshop. For example, no longer-in-use office buildings, locomotive sheds, workshops, warehouses, spaces under elevated railway viaducts, unused tunnels and underground stations, compensation areas, retention spaces and more.

The workshop engages and activates a broad range of ideas, inviting the radical cultural repurposing of unused spaces. For example, the workshop could explore the possibilities of culture-filled wagons moving along disused train tracks, interacting in the manifold ways with the neighbourhood they stop by in – be they in the form of travelling exhibitions, wandering clubs, artists workshops or live music sets.
The workshop encourages the use of digital tools that can help blur divisions between local and global audiences and culture creators and to consider how cultural use could go hand in hand with the ecological upgrading of spaces. The workshop also speculates on the potential of VR or AR technologies for reviving lost music venues and spaces in former transport centres, such as new underground stations or depots.
At the same time, the workshop explores process-oriented methods, such as temporary cultural projects and Field Labs or Digital Twins, which investigate experimental forms of the production of coexistence. As pioneering settings to further develop the city culturally and protect Berlin's long-lasting and flourishing cultural landscape, the workshop aims to envision spaces of cultural reclaim – integrating cultural performances as natural sequences in the flow of urban mobility.