Vaccines in the club and a "Club-Reboot" across Berlin
read:
4
minutes
The Berlin club scene is paving the way a three day – no mask – indoor club trial over the weekend as well as with free nighttime vaccines taking place next week at Arena club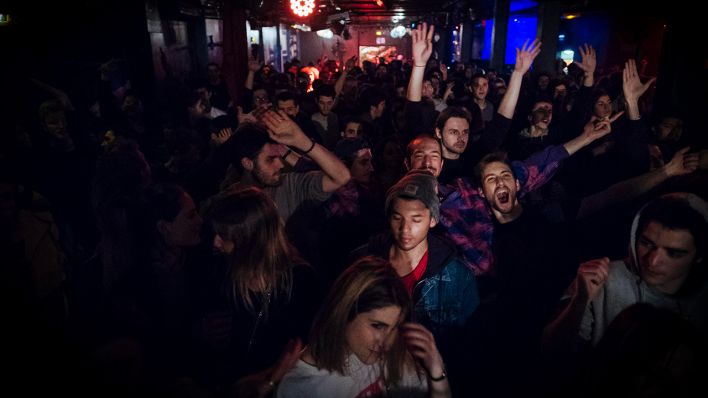 The interiors of Berlin's clubs have been closed to the public for over a year. When the pandemic hit Berlin in March 2020, it forced the industry to shutter completely. As of the last few weeks, open air events have been operating as part of the "Draussenstadt project", with noise limitations from 10pm, and masks on the dancefloor, but admittedly this watered down approach to clubbing has been the only safe and attainable option for Europe's club capital.
To encourage responsible and safe return to the indoor dance floors Berlin's Club Commission have developed a six point plan in cooperation with the senate Department for Culture and Europe, the Senate Department for Health, Care and Equality, as well as scientists from the Charité, one of the largest university hospitals in Berlin.
Club Culture Reboot:
Over this weeked 2000, lucky guests can attend a pilot project that is spread out over six clubs, indoors without masks or distancing. Participants must attend a PCR test at designated tests centres prior and after the event. With the personalized ticket and negative result, guests are able to hop from club to club, like the good old days, as long as there's space.
Where and when can visitors do the PCR tests?
For the PCR test, a regular nasal / throat swab for Sars-CoV-2 testing is carried out today Friday August 6th between 14:00 – 20:00 at Kitkat, Festsaal Kreuzberg, SO36.
This will be held at three locations (Kitkat, Festsaal Kreuzberg, SO36) on Friday, August 6th. offered between 2 p.m. and 8 p.m. The time and place will be determined when the ticket is purchased.
The results of the tests are digitally communicated to the advance booking office and the admission ticket is activated. The results will be available on Friday evening (between 5 and 11.30 p.m. – depending on the time of the smear test).
The follow-up tests will take place one week later, on August 13th, for the participants at the same test station (same time slot as for the first swab).
Full line up here:

Fri. 06.08.2021, from 10 p.m. in the Metropol: "Propaganda" Safe Place "with Gloria Viagra, Stella Destroy, Jordan Snapper, admission: Nikita
Fri. 06.08.2021, from 10 p.m. in the Festsaal Kreuzberg: "Freak de l'Afrique Club Night" with Young Gambinos + DJ Nomi + Wallizz + Ukai + Christon + guest dancers
Fri. 08/06/2021, from 10 p.m. at Crack Bellmer: "Future Fun" with Cleymoore (Rings of Neptune / Pluie / Noir), Julie Marghilano (Sol Asylum), Marie Midori (Femme Bass Mafia / Quality Time), Naomi Dasmoe
Fri. August 6th, 2021 from midnight (until Sunday 12 noon) in the Salon zur Wilden Renate: "Renate – Above Below Testerei" with False Witness, S Ruston, Gigi FM, Morphena, Michal Zietara, Yanling, Sebastian Voigt, Magna Pia, Jamaica Suk, fka.m4a, Johannes Albert
Sat. 08/07/2021 from 11pm in the Kitkat: "CarneBall Bizarre" with Clark Kent, Der Puk, Ben Remus, Don Tom
Sat. 08/07/2021 from 10 p.m. in SO36: "Dancing with Tears in your Eyes – Xberg finest 80ies Party" with ED Raider (Däääncing Berlin) and Naked Zombi (Däääncing Berlin)
The chairman of the Berlin Club Commission, Pamela Schobeß, said on rbb's Inforadio that the rush for the few tickets showed how great the need in the club metropolis was after 18 months of pandemic. A successful pilot project could now possibly convince politicians to reopen all clubs.
Twenty different clubs applied for the project and six were selected. "We made sure that the clubs had a good ventilation system," said Schobeß. In addition, the heterogeneous club landscape should be mapped, which offers safe locations for different scenes. "That's how we address 2,000 people from different communities."
The pilot project does not differentiate between vaccinated and unvaccinated or recovered participants – all of them have to go through the uniform PCR test strategy.
Combine a weeknight out, with a trip to Arena Berlin for a shot of Biotech.
Berliner Impfnächte (Vaxine nights) tale place on the 9th, 11th, 13th August
As it turns out a lot of people working in the vaccination and test centres during the pandemic, are from the music, clubbing and nightlife industries. During the vaccination nights, the employees of the Tegel and Arena vaccination centres are on the line up, so you have a clubbing soundtrack with your vaccine. You can register in advance, but you can also come without identification documents.
Arena started its life as a spacious bus depot on the Spree but was reborn after reunification as a concert and event space – and now vaccination centre. The location's size means it's possible to create a club-like atmosphere and adhere to corona regulations.
The Club Commission's six-point plan:
The projects described above are part of the Club Commission's six-point plan from March 2021. The plan is intended to offer Berlin club culture perspectives and to enable low-risk events.
1. Risk management planning
Central information platform with hygiene concept recommendations and current regulations at https://saferave.clubcommission.de
2. Smart apps and technologies
1. For antigen quick tests without a ticket: Admission control using the test results stored in the Corna Warnapp, as well as 2. For PCR tests with ticket: Ticketing solution via TixForGigs, where tickets are only activated if a negative test has been carried out.
3. Special regulations and additional outdoor areas
Flexible opening times for outdoor areas, implementation of test events in clubs and on green areas as part of Draussenstadt.
4. Monitoring
Club culture monitoring: Quarterly survey / recording of the economic situation of the clubs and organizers.
5. Scientific exchange and pilot projects
Participation in the research projects "Clubculture Reboot" as part of the campaign "Perspective Culture: Berlin Pilot Project Testing" by SenKult accompanied by the Charité on August 6-8, 2021 in six different clubs, as well as the hygiene concept and infection protection project "Hygieia" accompanied by university medicine Greifswald, ASH Berlin and Beuth Hochschule on August 14th, 2021 in the club "Revier Süd-Ost".
6. Information campaign
Participation in the campaign #Durch through in cooperation with visitberlin and UnitedWeStream, as well as the campaign "Long vaccination nights" from August 9-13, 2021 in the arena.