Applications For 24-hour Permits Open In Amsterdam
read:
2
minutes
The City of Amsterdam will issue a maximum of four new 24-hour permits in 2022. Businesses with a 24-hour license determine their own opening and closing times and are allowed to be open day and night. Innovative proposals can be submitted from now on.
The 24-hour permits were introduced in 2012 by the municipality of Amsterdam — with the night mayor as the driving force — to stimulate a vibrant day and nightlife in the city. There are now thirteen Amsterdam clubs and catering establishments with a 24-hour permit. That will be expanded to seventeen in 2022. What is new in this round is that two of the four 24-hour permits are intended for restaurants. Hopefully, this will lead to more places in Amsterdam where you can eat until late (or from very early on) — something we've been advocating for some time.
To be selected entrepreneurs must write a plan before applying. The proposals will be assessed by a team of experts from the creative industry, including night mayor Ramon de Lima, and an official team. Among other things, the need for the permit is examined and whether it is innovative compared to the current offer. You can register until January 21, 2022.
The Global Nighttime Recovery Plan's Chapter 3: Innovating For 24-Hour Cities examines the problems faced in creating safe and welcoming cities at night in the time of Covid-19.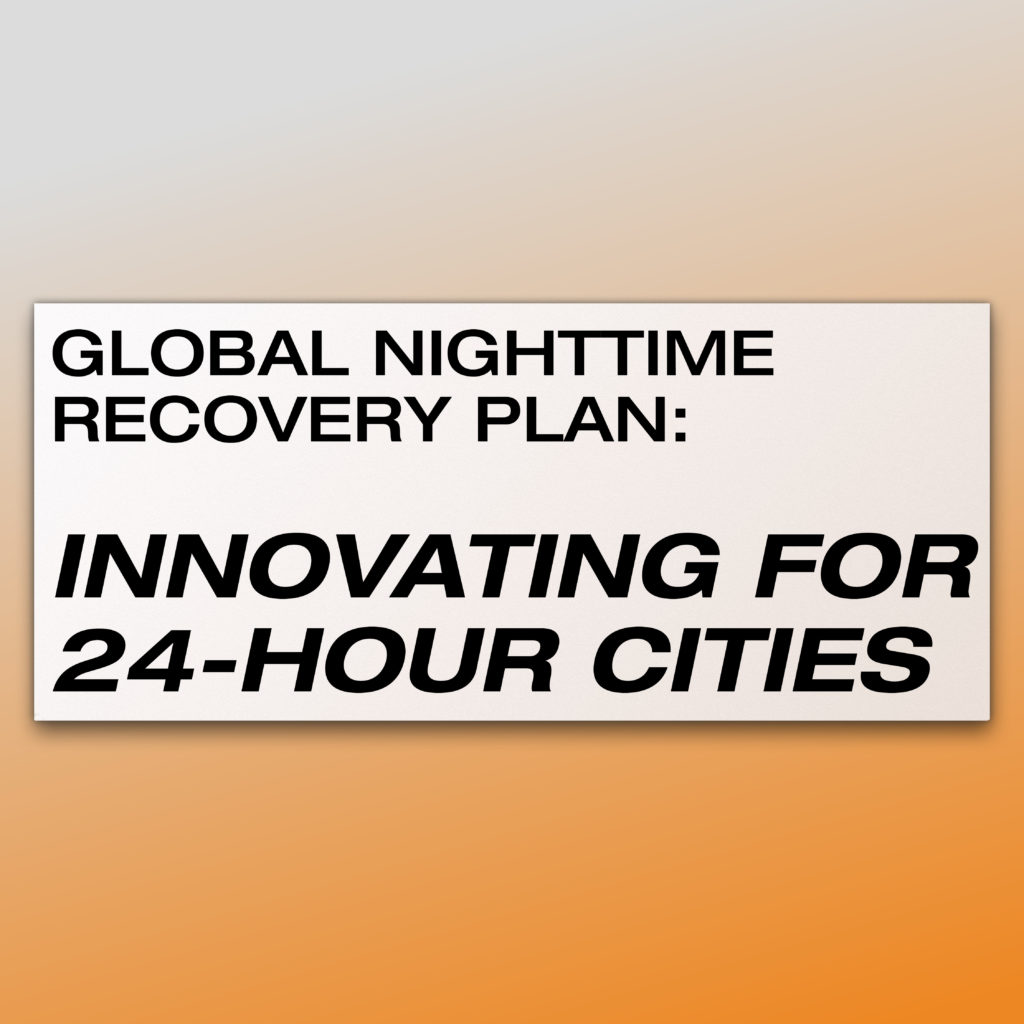 When space for physical distance is in such high demand, creative time-based strategies that embrace the night hours can decongest valuable space and offer more economic and social opportunities. It is vital that municipalities, licensing and planning authorities, business groups and transit operators are proactive in addressing the three key areas of activation, illumination and movement in what is a fast-changing landscape of user behaviour and social norms
A healthy nighttime economy requires vision and design, planning, ongoing measuring and targeted communication campaigns. It must consider the needs of nightlife culture creators, participants and night workers alike. By addressing the three key areas of activation, illumination and movement – and accompanying them with ongoing surveys and communication campaigns – cities can not only bolster their night's cultural offering, but increase the safety, desirability and economic viability of the city overall, so that the hours after dark are no longer feared or neglected, but embraced as a competitive edge. Now is the time for global cities to pick up the examples in this chapter and to adapt them to create their own solutions.
Read more from Nachtburgemeester