Temporary Pleasure Workshop in Barcelona: What Makes a Club?
read:
< 1
minutes
Taking place in Barcelona, Spain, from the 8th of November till the 12th of November, Temporary Pleasure together with FUTCH host a week of lectures, design labs, and building workshops enabling local scenes to co-create community-based club spaces.
Temporary Pleasure is a collective of architects, event producers, and club creatives generating new ways to imagine, build, and use the club – together. In alliance with FUTCH club™, they aim to facilitate the platforming and realisation of local needs. They also hope that by making space for people to work together like this, They can cross-pollinate skills and perspectives, creating opportunities for community-building beyond the club.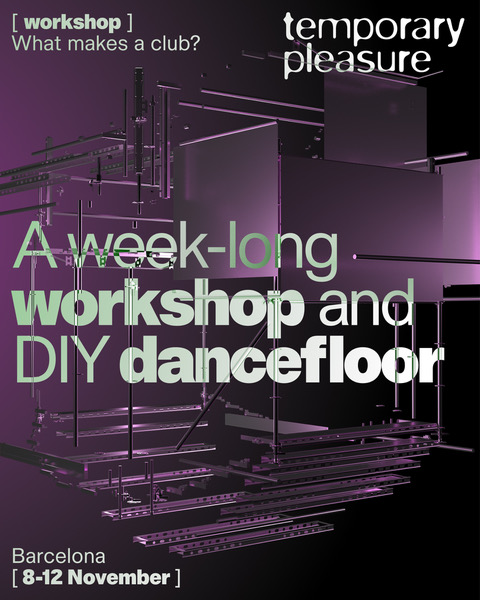 FUTCH emerged during COVID-19 lockdowns as an open alliance between bodies that wanted and needed a space in which not only be 'included', but decide everything. They are a collective experiment sharing connections, support and resources through not only parties and performances but exhibitions, coffees, talks, workshops, books, debates and more.
They are community-owned, transparent and consent-based, and strive to maintain a spot where queerness from any age and background can hang safely anytime of the day. As a non-profit they support trans, les(bi)an, migrant and local artists and activists via mutual aid, not charity.
The workshop is now fully booked however it is possible to attend the wrap-up event where you can hear the results and see the installations created during the week on the 13th of November. You can pay what you can with 3 ticket options: €5, €10, €15 so the event can be available to a wider audience.
Your contribution will help them pay their artists fairly, cover production costs, and help cover for people who otherwise could not come.
Follow FUTCH
Support FUTCH
More information at https://www.temporary-pleasure.com/