MTL Au Sommet De La Nuit / Montréal Night Summit
May 17 @ 08:00

-

May 21 @ 17:00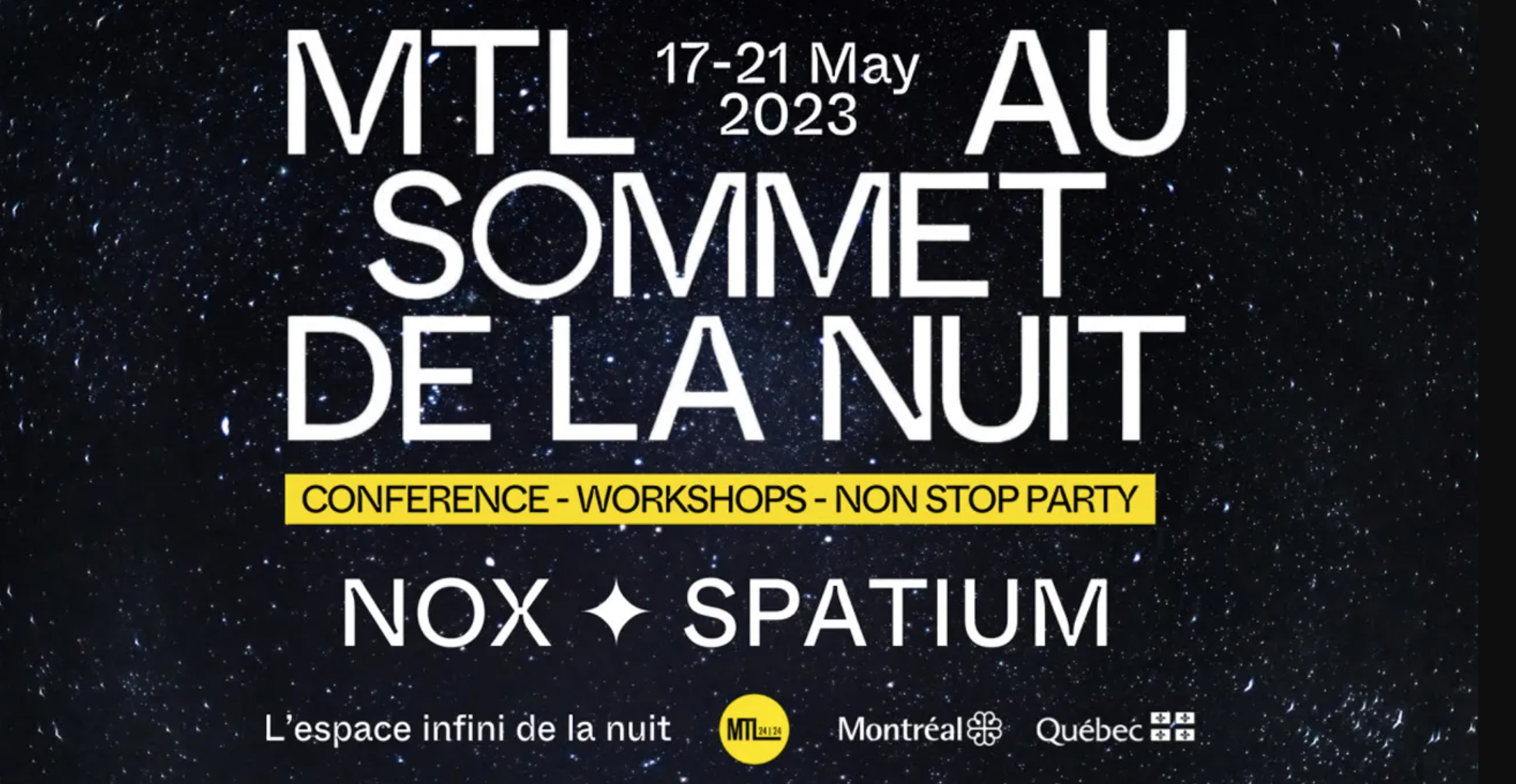 MTL 24/24 is a non-profit organization that develops nightlife in Montréal.
The 2023 edition of the Montréal Night Summit will take place May 17–21. Is it subject? NOX SPATIUM – The infinite nighttime space. Consider the countless possibilities that exist in space, whichever you define it.
The summit's speakers will come from the US, Canada, Québec, and Europe, and will discuss the following subjects:
Physical elements include nighttime views, architecture, zoning zones, urban planning and development, repurposing of abandoned factories, cultural venues, placemaking for multiple uses, and creative footprints.
The investigation of inventiveness, including suggestions, actions, best practices, policies, and potential solutions. Moonshots for the next generation in transportation, public parks, illumination, society, culture, safety, and care.
Constellations and their respective positions include resilience, nightlife projects, inter-city networks, innovations in community building, and night governance models.
The following episode of NONSTOP 24/24 is broadcast on MTL 24/24 to wrap out the work week. Visitors can experience 36 consecutive hours of nighttime culture at the Jacques-Cartier Pavilion of the Port of Montreal Pavilion from May 19 to May 21. The St. Lawrence River and the city of Montreal may both be seen in breathtaking detail from this viewpoint.
In this celebration of nightlife, the City of Montréal and the Government of Québec are partners.
The final event for Sommet de la nuit 2023 will be NON-STOP 24/24, featuring more than thirty artists from both local and foreign night cultures.