The Urban Regeneration Festival in Florence.
September 29 @ 18:30

-

20:00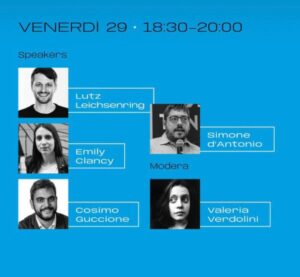 "CITIES AFTER DARK: ECONOMY, CULTURE, SOCIALITY AND SAFETY"
How do we shape a right to the city for all and everyone at all times of the day? What are we talking about when we speak of "economy of the night"? What can we learn from local and international experiences? How does reflecting on night also mean thinking about the city, tourism, social relations and community? How can local governments break out of emergency logic and design (and govern) a right to the city at night?
The meeting aims to explore these issues, starting from the concrete experiences of some Italian contexts and from the Berlin experience, to then try and offer an analysis of the night,of its economy, and of its problems, not only in alarmist terms but also highlighting the many treasures that that time of life can offer to territories.
Speakers:
__ Lutz Leichsenring, press spokesman Clubcommission Berlin
__ Emily Clancy, Vice Mayor in charge of Cities After Dark, Municipality of Bologna
__ Cosimo Guccione, Councillor in charge of Cities After Dark, Municipality of Florence
__ Simone d'Antonio, Lead Expert URBACT network Cities After Dark
Moderator: Valeria Verdolini, CheFare