Interested in an action plan for Global Nighttime Recovery?
read:
2
minutes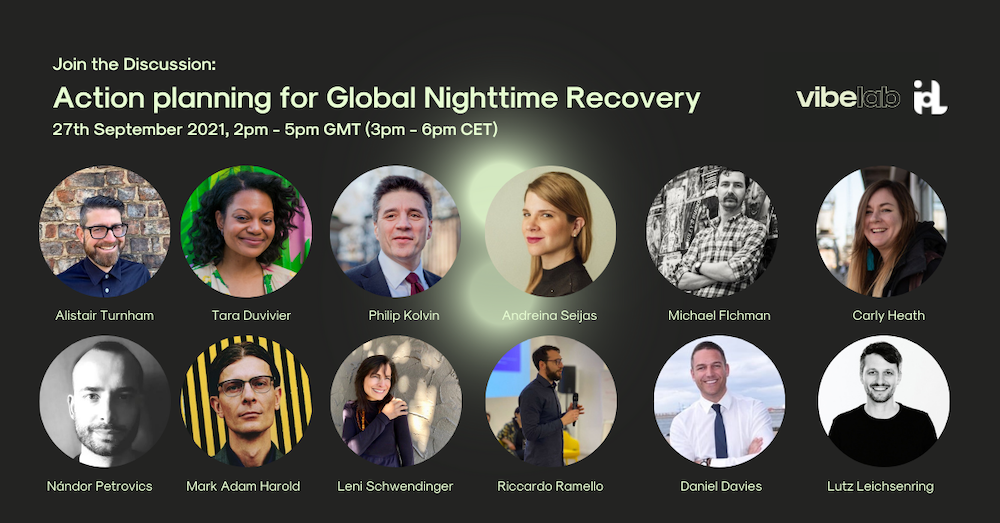 Sign up to the free online discussion here
The Institute of Licensing in partnership with VibeLab will present insights of the 7 Chapters of the "Global Nighttime Recovery Plan".

The Global Nighttime Recovery Plan is a collaborative, practical guide for cities that are trying to determine the best way to design and execute a safe and feasible strategy to reopen and reactivate their creative and night-time economies. The guide is a joint effort that involves more than 130 practitioners, academics, public health experts, advocates and industry representatives from more than 70 cities all over the world and is meant to be an interactive platform to share frameworks, tools, and practices among cities during these unprecedented times.


Confirmed Speakers:

• Lutz Leichsenring, VibeLab
• Mark Adam Harold, Music eXport Fund and Vilnius Night Alliance
• Riccardo Ramello, PhD researcher at Nottingham Trent University (NTU) and founder of Club Futuro
• Alistair Turnham, MAKE Associates
• Leni Schwendinger, Urbanist | Designer | Artist, NightSeeing, International Nighttime Design Initiative (NTD)
• Tara Duvivier, Pratt Center for Community Development in New York City
• Nándor Petrovics', Researcher and public policy consultant
• Andreina Seijas, Night Tank
• Philip Kolvin QC, IoL Patron and Barrister at 11 KBW
• Michael Fichman, City planner, researcher and lecturer at PennPraxis
• Carly Heath, Bristol Night Czar

The Programme


• WELCOME: Daniel Davies, IoL Chairman
• Introduction to GNRP: Lutz Leichsenring (Moderator)
• CHAPTER 1: MANAGING OPEN AIR NIGHTLIFE: Mark Adam Harold
• CHAPTER 2: THE FUTURE OF DANCE FLOORS: Riccardo Ramello
• CHAPTER 3: INNOVATING FOR 24 HOURS: Alistair Turnham + Leni Schwendinger
• CHAPTER 4: SUSTAINING OUR NIGHTLIFE SCENES I: Tara Duvivier
• CHAPTER 5: NIGHTTIME GOVERNANCE IN TIMES OF COVID: Nándor Petrovics and Andreina Seijas
• CHAPTER 6: SUSTAINING OUR NIGHTLIFE SCENES II: Philip Kolvin QC
• CHAPTER 7: LEARNING AS WE GO: Michael Fichman
• 30 min PANEL DISCUSSION & WRAP UP
Join the disucssion on Monday, sign up here in advance
The final chapter seven of the GNRP is due out at the end of October. As well as a collaborative manifesto that is built by and for nighttime communities around the world, that determines what the future of nightlife should be.