VibeLab at ADE reflections
read:
4
minutes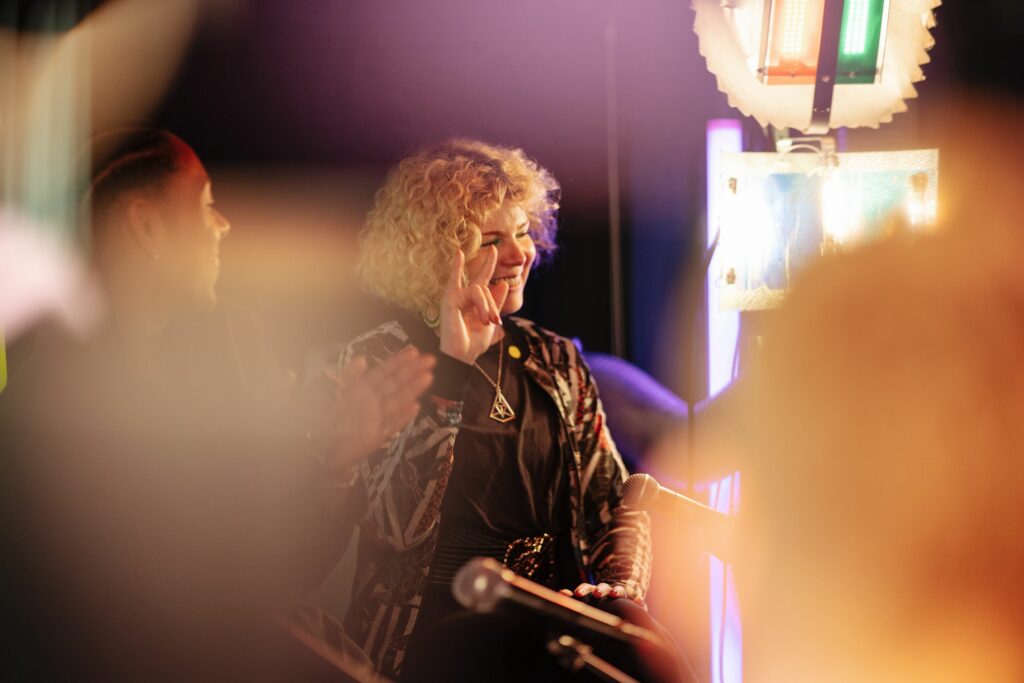 Hybrid Habitat – Nightlife
The movement workshop started the day with a bang, bringing the participants into a fresh headspace. Alvin, who runs Berlin based dance floor mediation Dose Of Pleasure, guided the crowd into a state of expression, connecting the attendees with their animal side, whilst drawing on Jungian theory and applying it to dance floor ethics.
The daytime program involved thinking outside of the box when looking at the future of nightlife, technological innovation, the pressing urgencies of biodiversity loss and a holistic understanding of what nightlife brings to culture and society.

The hybrid approach encouraged the process of using technology to help, notice, observe and collaborate with our biosphere through the crisis. The day consisted of multiple elements, breaking the mould of the standard conference format, beginning with a movement workshop, leading to an in depth workshop discussion with AI visualisations, and commencing with a panel discussion with nightlife and experiential experts from around the world. This segment was kindly sponsored by our dear friends at SIP

Dose of Pleasure – Movement Workshop
Animal Club was a space of radical imagination. Encouraging deep out of the box thinking, this session was led by ​​Professor Elizabeth Sikiaridi + Professor Frans Vogelaar co-founders of Hybrid Space Lab. A Berlin-based Think Tank and Design Lab that focuses on innovation and design with a strong cultural component, developing spatial interventions that open up and reinterpret places.The workshop investigated the future of nightlife at the crossroads of biodiversity loss. Hybrid space lab, presented their previous architectural and design projects, and then encouraged the audience to develop a creative response to the term "Animal club" . Sectioning off into four groups, the participants explored the various formats and possibilities for creating a so-called "animal club" that took into consideration what will club spaces look like when they are designed as interspecies habitats for human, plant, and animal life? And how will the ongoing digital transformation be exploited for new artistic practices in interspecies clubs which allows humans to notice and co-create with more-than-human life? Meanwhile Thomas from pollinations ai, typed in key words to generate AI automated images that responded to the ideas expressed.

When presenting ideas, the conceptual thinking of the four groups took many different turns, however the overwhelming narrative expressed was that of a conservation and preservation approach when thinking about creating spaces for humans and animals to coexist.
Animal Club – Workshop
Panel – Fertilisation & Cultivation of the Night
Panelists
Kae Burke, Co-Founder & Creative Director of House of Yes (NYC)
Kae is a Co-Founder and Creative Director of House of Yes, a nightclub and collective in New York City, and is recognised for her commitment to bringing humans together through experience design and holding the culture of nightlife to a higher standard.
Sam Bombas, Multi-Sensory experience designer Bombas and Parr (London)
Sam is globally recognised as the leading expert in multi-sensory experience design. His studio works with brands, artistic institutions, private clients and governments to deliver emotionally compelling experiences to a wide variety of audiences.
Ruby Savage, Music & Culture Curator, Don't be a Creep (London)
Ruby Savage is a London-based Music & Culture Curator who is the creator of Don't Be A Creep – an arts initiative that spreads zero-tolerance policy towards harassment in music and nightlife culture through provocative poster and installation campaigns.

You: Pedro Jardim, Managing Director at newkinco (Berlin)
Pedro Jardim, Managing Director at newkinco – a venture builder, consultancy and lab that launched Anitya – a first-of-its-kind Metaverse 2.0 platform that seeks to make digital art more accessible and provide digital education and technology for artists, institutions and creative projects.

Hosted by Lutz, the panel delved into the void within arts and culture, questioning the future of inner cities; re-imagining and innovating, to protect and rightfully shape it. Drawing on the experience and opinions of the panelists and their differing professional backgrounds, they discussed strategies and new tools to fertilise and cultivate creative space in future cities. How can we build viable, resilient and inclusive spaces capable of balancing the economic and social demands of creative communities and landlords? And what opportunities may lie in purchasing online territory and extending operations to the metaverse?

This panel explored how the pandemic accelerated retail stores and offices moving further or entirely to the digital realm. Delving into the metaverse whilst maintaining an appreciation for tangible IRL interactions, we soon realised the future is already upon us in terms of technological innovation.

Hot Sauce and Industry Mixer BBQ
Keeping it spicy this nighttime industry mixer is also a BBQ and a hot sauce competition at SEXYLAND.
Kicking off the evening PERRON, Villa Buitenlust, PIP and VibeLab, are bringing the heat with a radical alliance between Amsterdam, Rotterdam and The Hague's clubbing and cultural scenes. The hot sauce competition was hosted by Steven Van Lummel director of PIP den Haag, the iconic netherlands club. Attendees were invited to join the industry BBQ and to bring along their own favorite recipe or homemade recipe of hot sauce. 10 hot sauces were bought to be judged by the leading taste makers in a competition that will now continue as a yearly addition to ADE. The winning sauce was awarded to Josef from the Hauge. Drinks were provided by performative The Gasoline Bar
Sexy mess took over the three floors of Sexyland. A global collaboration between: House of Yes (New York), Carlos Capslock (São Paulo), House Music With Love (Malmo), Flight mode (Amsterdam) and VibeLab (Berlin)

Sexy Mess was a night of dance floor excellence bringing together an international mix of nightlife creators, vibe curators, culture freaks and humans who make music to move your body! Be yourself. Be Sexy. Be a Mess.
Launched in 2019, Sexy Mess unites the global nightlife community for a night of connection and epic expression on the dance floor. This year for ADE, we transformed Sexyland World into a boundary-pushing art experience dance party with help from our fave creators and curators.

Music from:
Room 2: House Music With Love
Urmet

And with wonderful performances from queer performace group KuToer.Collective
It was an outrageous dance party filled with positive nightlife, good vibes, secret rooms, new friends, performance art surprises, self-expression and theatrical absurdity.