XP in Riyadh – expanding and diversifying music futures
read:
4
minutes

XP Music Futures is a 3-day music conference in Riyadh taking place 28-30th November 2022, that creates new pathways for music industry professionals.
The conference, established in 2021, has been laying the building blocks to create a thriving music industry in MENA. It's one of the main pillars of MDLBEAST as it aims to empower the regional scene and develop talents in music, art and culture, and technology.

Vibelab has been instrumental in supporting the XP team in, developing the strategy and programming for the conference since it started last year, expanding pathways for music industry professionals of all backgrounds – enabling artists, designers, entrepreneurs and policy-makers to shape their music futures- with workshops, panel discussions, networking opportunities and multiple nightlife activations.

"Through XP, we are able to promote the region and accelerate positive change in diversity and gender equality through advocacy groups, research and knowledge-led insights," said MDLBEAST strategy director Nada Alhelabi
Over the last ten years in Saudi Arabia, dance music has grown into one of the most popular music genres, blossoming from a semi-legal past time practice of cosmopolitan youth, into state-supported events that are aligned with the Saudi Vision 2030. Since 2019, the country has had a huge overhaul of its entertainment sector, with new regulations that have meant local people have the opportunity to enjoy nightlife and music in public with their friends. In 2019, under a royal decree, Saudi Arabia's General Entertainment Authority (GEA) announced that music was now permissible in licensed establishments. The mandate is part of the Kingdom Vision 2030's objective to "develop and diversify entertainment" as part of the quality of life program.
Liberation for Saudi women has also had a huge impact on the country's cultural and art sectors. Since 2018 women have been allowed to drive and the state-enforced control that women no longer need their male guardians to approve their travel or paperwork. There are no longer the notorious religious police enforcing their beliefs that challenged the development of creative expression or imposing gender segregation in public spaces. If you're interested to learn more about the process that underpinned this transition then listen to this interview.
In recent years we have seen an outburst of cultural and creative scenes mostly because It's no longer forbidden to play music in public spaces. Electronic music is one of the key drivers behind the growth of the creative industry being the most popular genre for youth culture. There are pop-up events and raves happening in remote places. Nightlife always had a place in Saudi culture but it was very underground and in small volumes. Now you see it everywhere and young professionals have the opportunity to come out of the shadows and to host their own events publicly. The diversity and quality of life for so many have changed drastically.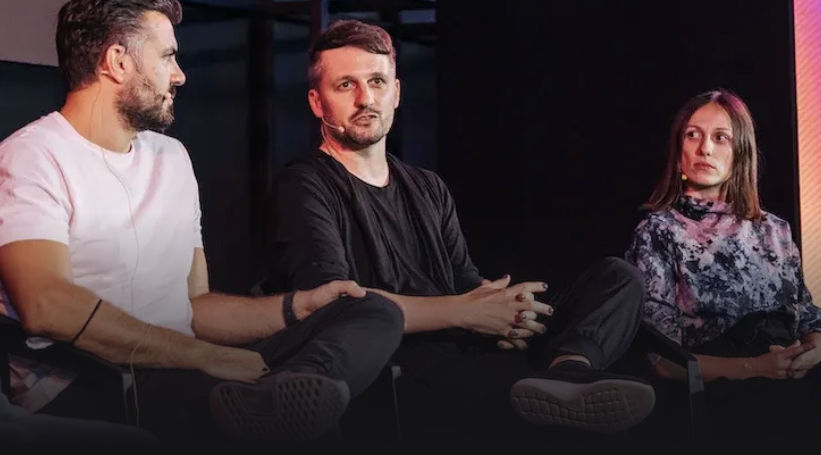 The conference program aims to highlight and bring attention to and grow this progress in the country

Here are some of VibeLab's highlights:
For VibeLab it was important to create awareness and access for everyone to participate in XP. As part of the overall strategy, a Call for Submissions was put online. Out of 70 submissions, three tech start-ups made it to the program and they will have the chance to present and connect with a legendary electronic music icon, Jillionaire.
Jillionaire
DJ, Music Producer and Tech investor. Best known for being a former member of the American electronic music group Major Lazor along with Diplo and Walshy Fire.
Session description:
Technology creators have the opportunity to present their business ideas to Jillionaire to get his advice on the innovation itself, their potential challenges, suggestions on how to improve, and what to do to spark the attention of potential investors.

Call for submissions:
Sound Sauce (Cairo)
Nirvana Bebars is a creative entrepreneur based in Cairo.
Bump (Los Angeles)
James Jones is the Co-Founder and CEO of Bump
KNZLAB records (Riyadh)
Omar Agha is the co-founder of KNZ

In this session, we invite key women from across the industry who are leading their businesses, companies, and teams to greatness. This panel-styled discussion will explore the inspiring stories of women who are not only breaking barriers but continue to set the bar higher and higher. Our successful and forward-thinking panellists will discuss the challenges and opportunities that come with being a woman in the music industry, how they help it thrive, and what they are doing to change the game. This promises to be a lively and thought-provoking discussion that will leave attendees with a renewed sense of inspiration.
From men to mentors to allies, empowering women to take the front seat is crucial to gender equality in the global music industry. In this session, we discuss the tools and advice for anyone who aims to create a more balanced scene.
In this session, we showcase best-in-class music festivals and what they do to create awareness and lead by example when it comes to building a more sustainable live events industry. Kickstarting an industry in a sustainable way is a huge challenge, especially in an emerging music market. Pioneers in the field will join this panel to not only give practical advice but also demonstrate how sustainability can become a distinct selling point.