read:
2
minutes

Thu Oct 20th 14:00-19:00
Hybrid Habitat: Nightlife
Movement – Workshop – Panel Discussion 
presented by
VibeLab x Hybrid Space Lab x SIP
Venue: Sexyland – Noordwal 1 – 1021 PX Amsterdam
________________________________________
The program explores areas of intersection between nightlife, sensuality, biodiversity, and digital transformation. It is split into three segments:
2:00pm: Dose of Pleasure – Movement
Part 1: Connecting to the body. Dose of Pleasure is a guided dancefloor meditation to activate your senses hosted by dancer, drag artist, raver, and poetic bodyworker Alvin Collantes. A perfect warm-up for the following conversations!
3:30pm: Animal Club – Workshop
Part 2: Multispecies habitats. What will club spaces look like when they are designed as interspecies habitats for human, plant, and animal life? Animal Club creates a space of radical imagination. We will explore how technology and creative practice can help clubs to assimilate within their neighbourhood and biosphere, and how this will give birth to new forms of pleasure. Curated in collaboration with Prof. Frans Vogelaar and Prof. Elizabeth Sikiaridi of Hybrid Space Lab.
6:00pm: Fertilization & Cultivation of the Night – Panels
Part 3: Digital transformation. Accelerated by the pandemic, retail stores and offices are moving further or entirely to the digital realm colonizing new digital playgrounds and opening voids in the physical urban landscape. The future of inner cities is in question – time for nightlife to step up its game! This panel explores strategies and new tools to fertilize and cultivate creative space in future cities – including an outlook to purchasing online territory for nightlife and extending operations to the metaverse. With panellists Ruby Savage (London), Sam Bompas (London), Pedro Jardim (Berlin), Kae Burke (NYC)
Join us for the industry BBQ, as well as the Sexy Mess after-party that will go on late into the night!

Thu Oct 20th 18:00 – 21:00
Hot Sauce Competition & Industry BBQ
More info here, send an email if you would like to attend mirik@vibe-lab.org
Thu Oct 20th 18:00- 21:00 
Sexy Mess – After Party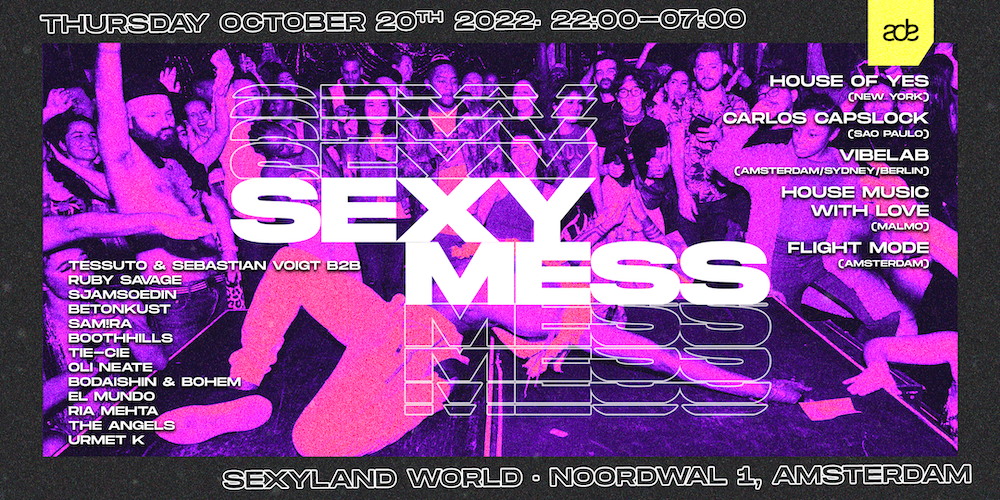 22: 00 – 07:00am:
Be yourself. Be Sexy. Be a Mess. Launched in 2019, Sexy Mess unites the global nightlife community for a night of connection and epic expression on the dancefloor. This year for ADE, we transform Sexyland into a boundary-pushing art-experience dance party with help from our fave creators and curators including VibeLab (Amsterdam/Berlin), House of Yes (NYC), Carlos Capslock (São Paulo), House Music With Love (Malmo) and Flightmode (Amsterdam). Click here for tickets, the full lineup and info.